Utah is famous for Bryce Canyon, Zion NP, and Sand Dunes Park. But you'll also find wild and beautiful Hot Springs, here the best in Southern and Northern Utah
In the heart of the American South West, the state of Utah is famous for its natural beauties. This is the state of the red pinnacles of Bryce Canyon, of the snowy peaks of Zion National Park, and of the Coral Sand Dunes State Park.
Interestingly enough, Utah's motto is "Industry", while its anthem is "Utah…this is the place."
Utah is the state where you can find one of the heaviest organisms on earth, the Trembling Giant of the Fishlake National Forest.
This is the only American state where every county contains some part of a national forest and where 60 percent of the population is Mormon. 
According to Utah's license plates, the state has "The greatest snow on earth". And is there a better pair than snow and hot springs? 
In this article
The choice: natural hot springs or resorts?
Best Hot Springs in Northern Utah
Homestead Crater
Crystal Hot Springs
Best hot springs in Southern Utah
Meadow Hot Springs
Red Hill Hot Springs
Mystic Hot Springs
The Choice: Natural Hot Springs or Resorts?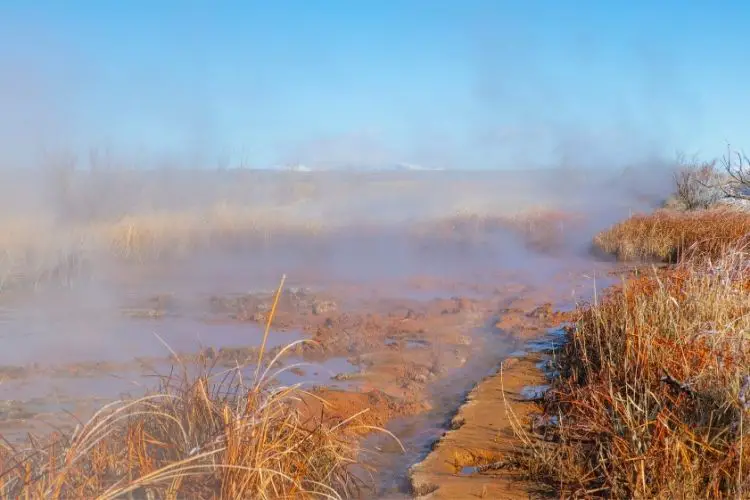 Disclosure: Some of our articles contain affiliate links (as an Amazon affiliate I earn from qualifying purchases).
Natural hot springs are the ones in the wild, the ones that spring up naturally from sources as the soil, rocks, or streams. These natural hot springs in Utah (and everywhere in the world) are usually located in parks or beaches. 
Resort springs are found in a hotel and they can be either indoors or outdoors. In this case, you can book a stay in a SPA-friendly resort which includes not only the heated waters but treatments such as massages and beauty routines. 
The difference between these two types of hot springs is the travel lifestyle they entail. While the natural ones are more adventurous (since you have to reach them on your own), the resort's ones entail a relaxed travel style, in which you don't have to worry about anything. The choice is all up to your needs. 
Best Hot Springs in Northern Utah
The capital of the State, Salt Lake City, is in the north of Utah and it's a good starting point to explore the area. 
Further north and nested in the mountains is Park City, once a mining town and now a ski and outdoor activities destination.
Not too far from Salt Lake City is Antelope Island State Park, a destination for hiking, kayaking, and cycling. Another must-go destination in northern Utah is Bear Lake State Park, with a lake perfect for water sports.
Natural Hot Springs
Homestead Crater
Barely one hour from Salt Lake City, you can find the only geothermal hot spring in Utah: Homestead Crater. As the snow melted over 10,000 years ago, it penetrated deep in the earth and then shot upward, due to the heat of the earth's interior. The water kept moving, picking up minerals until it created the limestone bed of this crater. 
The waters' temperature is between 90 to 96 degrees Fahrenheit (32-35.5 Celsius) and a breath of fresh air comes from the open top of the dome. The Crater's size is 65 feet deep and 400 feet wide (respectively 20 meters and 122) and it is easy to access thanks to a tunnel. 
The hot springs aren't the only fun activities to do at Homestead, which is fun for the whole family. 
Where: the Crater is in the Heber Valley, the Visitors Center is at 475 North Main
Heber City, Utah 84032, Phone +1 435-654-3666, online contact form.
Ratings: the hot springs scored 4.1 stars out of 5. 
Crystal Hot Springs
Right at the convergence of hot and cold springs, this destination is one of Utah's favorites. This area was once used by Native Americans, who understood the powers of these mineral waters that have a temperature range of over 130 degrees Fahrenheit (54 Celsius), while the cold pool reaches 75 degrees Fahrenheit (25 Celsius). 
While this is not a resort, the Crystal area is designed like a park. Visitors can move among jetted hot tubs, a soaker pool, lap pool, Olympic-sized pool, and two 360-foot water slides. A lodge at the entrance of these natural hot springs there changing rooms, comfortable to get ready to soak. This is also a campground with fire rings, showers, and parking spots. 
Since these hot springs aren't in the wilderness, wildlife isn't an issue. Still, there are rules to follow, such as wearing appropriate attire, closing times for the locker rooms, and no BBQ allowed. Finally, without a wristband, you can't access the hot springs. 
Where: located in the city of Honeyville, these hot springs are just one hour north of Salt Lake City. 
Ratings: with 4.4 stars, these hot springs are a family-friendly destination. 
Best Hot Springs in Southern Utah
This part of the State harbors some of the most famous American National Parks. It's a mix of red rocks, high peaks, and sand dunes. 
Bryce Canyon looks like a fairytale, with its high and red pinnacles that remind you of Cappadocia. A more alpine landscape is the one of Zion National Park, next to the snowy border with Colorado and its forests.
Right on another border, this time with Arizona is Glen Canyon and Lake Powell, the second-largest human-made lake in the United States. From red to green, to the pink of the Coral Pink Sand Dunes State Park, a hiker's paradise. 
Natural hot springs in Southern Utah
The south of Utah has fewer natural springs than the north, but you can still immerse yourself in the wilderness and in these warm waters. 
Meadow Hot Springs
Located on private property, these hot springs include three pools at different temperatures. 
The first pool is the warmest since it reaches almost 100 degrees Fahrenheit (38 Celsius) and it is also the deepest and the most crystal blue of the three.
It maintains its dreamy color thanks to the speed of the water, which flows down a stream. Large rocks around part of the perimeter ensure kids can safely enjoy the pool too. The other two pools are cooler, more apt for a warm summer afternoon in Utah.
The owner lets visitors enjoy this relaxing place (which is open at night as well) but you have to follow a few rules. The number one rule is, of course, "leave no trace" and to respect the signs that you find all over the property.
Dogs and overnight camping are allowed and donations are welcomed, thanks to the box at the entrance of the hot springs. 
Where: these hot springs are just south of Fillmore, in Millard County. There is no contact information, so make sure to follow the directions.
Ratings: with 4.5 stars, this natural hot spring in Utah is a relaxing stop during a road trip. 
Red Hill Hot Springs
In the heart of the red Utah desert and with the distant view of snowy mountains, this natural hot spring is designed around a red hill. The more you descend, the cooler the pools are. This is the wildness, without any facilities such as bathrooms or changing rooms. Red Hill is a rustic destination, so it's not suitable for every taste. 
It is also a community hot spring, which means that its upkeep is in the hands of local volunteers. Travelers on a budget will enjoy it because the entrance is free and these natural hot springs are easy to access thanks to the nearby parking. Being on public property, dogs are allowed in the area, where you will find a grill, a fire pit, and a swinging chair. 
The rules for this natural hot spring are common-sense rules: leave no trace and take your trash with you. 
Where: these hot springs in northern Utah are in the city of Monroe, the locals can guide you as well as the GPS.
Ratings: with 4.6 starts, Red Hill is appreciated for its beauty as well as for its accessibility. 
Mystic Hot Springs
These are natural hot springs, but they are not free. While they are not in a resort, there is an entrance fee, the Soaking Passes ($25 for adults and $12,50 for kids of 12 and under). Visitors of Mystic don't just soak in its water, but there is also a waterfall to enjoy. With temperatures of up to 110 degrees Fahrenheit (43 Celsius), these pools are both relaxing and healthy, thanks to their minerals. 
While this isn't a resort, this is a private area with a campground and a few cabins for visitors. The rules to access this park are strict, so make sure to follow them. First, you need to make a reservation to enter and note that the passes are good for a two-hour slot and only groups of up to four people can go.
Where: the hot springs are in the town of Monroe and you can contact them at +1 435 527 3286 or at [email protected].
Ratings: visitors gave 4.4 stars to this hot spring thanks to its location and the unique, calm experience. 
Bonus Trip
Tired of the warm water? Head to Zion National Park for the easy, fun, and cold Narrows hike, perfect to enjoy the canyon and Utah's park. It's a unique experience that you can only get here, at the high peaks of southern Utah. 
Utah is the place for what?  According to the regional song, it's the place for "With its mountains and valleys, with its canyons and streams. You can go anywhere But there's none that compares. This is the place!"  For hot springs and adventure. 
Interested in the Best US Natural Hot Springs?
Don't like to travel?