Easy to pack and easy to carry, portable and inflatable hot tubs are relaxing and Portable and easy to pack, 2 person inflatable hot tubs are relaxing and fun. Perfect to create an intimate and luxurious experience with your partner!
Portable, inflatable hot tubs are an undeniable comfort. They are easy to pack and easy to carry during your travels. They are also easy to set up in your backyard. You can easily unpack it during the hot, sunny days and then stow it away during the cold, rainy ones.
These hot tubs create an intimate experience. Sometimes they include jets, to make the experience luxurious. Portable and inflatable hot tubs are relaxing and fun, perfect to unwind after a long day.
The best 2 person portable hot tubs are perfect for every travel style. If you like camping, they make for a nice addition to your tent. If you like long road trips, portable hot tubs can make the cheapest hotel room a bit more romantic. If you enjoy beach getaways, an inflatable hot tub might be the best way to admire the sunset. 
The Best 2 Person Inflatable Hot Tubs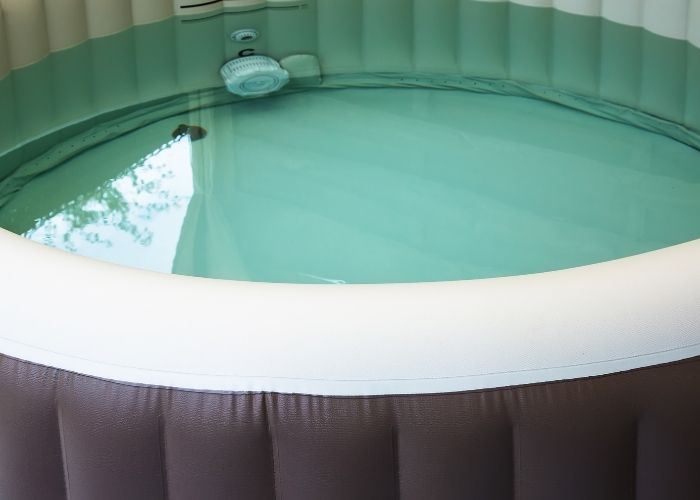 Disclosure: Some of our articles contain affiliate links (as an Amazon affiliate I earn from qualifying purchases).
Some of these portable hot tubs are designed for four people, but they might get crowded. With only people in them, there will be more space and more comfort. 
The Coleman Saluspa 
With comfy measurements such as 71″ x 26″, this hot tub perfectly fits two people. The Coleman has air jets and a remote control to make your experience more enjoyable and easier. The remote allows you to control the pump, temperature and the massage system. The massage indeed. This isn't any ordinary inflatable hot tub. It's a portable SPA. 
It's relaxing and smart. Thanks to the Power Saving Timer feature, you can set your preferred temperature up to 99 hours in advance. You can set your hot tub on Wednesday and have it ready to go on Saturday, just in time for the weekend. 
This inflatable hot tub is resistant. It's made of Tritech, a strong material that is durable and that prevents damage. Thanks to Tritech, the Coleman resists punctures and UVs. This hot tub is designed to always maintain its shape so you won't have annoying incidents. 
The packaging includes:
a pump,
one cover,
once ChemConnect dispenser,
two filter cartridges,
one repair patch.
The pump is especially useful to set up the hot tub and to control the massage system. Through the ChemConnect, your Coleman will always be a stable level of chlorine. Use the cover for extra insulation. 
Pros
Easy to assemble
Powerful jets
Great overall value
Cons
The temperature doesn't go beyond 104° Fahrenheit, 40° Celsius. 
Not as sturdy as advertised
The heater takes hours to reach the set temperature 
Ratings: this inflatable hot tub gains 4.4 stars. 
Check the Latest Price on Amazon
The CosySpa Inflatable Hot Tub
The smallest option for this inflatable hot tub is the four person design. While four people might be tight, two people will fit comfortably in the CosySpa. The smallest hot tub has a capacity of 800L (211 gallons) and its measurements are: 71'' in external diameter and 55'' in internal diameter. 
This portable CosySpa is created with PVC material and aluminum foil, to ensure heat retention. It's also easy to set up, thanks to the 1x 600W air pump. The highest temperature is 42° Celsius, 108° Fahrenheit. 
The package comes with all the accessories you need. It includes two covers for your inflatable hot tub. One is the insulating cover with safety clips, while the second is the PVC ground cover.
Both made of resistant materials, these covers are meant to retain heat and shape. More accessories in the package include a 3.5 meter-long power cable and a filter. Let's not forget comfort. The CosySpa includes a set of drink holders and two headrests.
Remember: you can't return this product for hygiene reasons and you should clean the filter daily. 
Pros 
Easy to set up
12 Month Warranty on attached Pump
Comfortable timer control
Cons
It can take a long time to heat up
No chemicals included in the package
The daily care of the filter
Ratings: this inflatable hot tub scores 4 stars. 
Check the Latest Price on Amazon
The ALEKO Oval Inflatable Hot Tub 
The cheapest option so far, this portable hot tub is fashionable and relaxing. 
Aleko is designed for two people, it has a water capacity of roughly 400L, or 145 gallons. The maximum temperature is 42° Celsius, 108° Fahrenheit. The heating time varies but it is managed with a 900-watt heater. 
This inflatable hot tub features a cushioned floor and 130 high-powered bubble jets. The packaging includes a matching and fitting cover that you can use outdoors. During the summer days, put the cover on the top of the hot tub for extra shade. During winter days, enjoy the underside. It is made of foil coating, which locks in the heat and keeps you warmer. 
The kit of the Aleko includes a 1500-watt (110-120 volt) power pack, a 600-watt bubble feature, and a 12-volt (AC) filter pump. There is more in the package. This inflatable hot tub comes with one inflation hose, one filter cartridge, and a rubber plug. It's made to be comfortable, safe, and relaxing.
Remember to switch off the control box every two days, so temperatures can cool and reset. 
Pros
It's fashionable. You have six color options, such as blue and brown.
It heats in a little over three hours
The bubbles of the massage are strong
Cons
The jets automatically shut off after 20 minutes
Not meant for heavy continuous use
Standard 90 day warranty
Ratings: this inflatable hot tub gains 3.5 stars. 
Check the Latest Price on Amazon
The Intex 28429E PureSpa
This portable hot tub comes in two sizes: four and six people. This Intex option has 140 jets and it reaches a temperature of 40° Celsius, 104° Fahrenheit. You can deflate it, so this hot tub is easy to carry around and to set up in your backyard. In 20 minutes, the water is ready for your own, private SPA moment. 
It's made of Fiber-Tech, a strong and resistant material. This feature ensures that the Intex doesn't cave in and lose shape. It also makes sure that the heat doesn't disperse and that the water doesn't leak.
This inflatable hot tub is built with an innovative water conditioning system. The Electronic Hard Water System reduces calcium buildup to make your SPA experience stellar. 
The package includes one cover, the heater, the filter, and the blower. For the maintenance part, you will have a floating chlorine dispenser, a test strip, and two filter cartridges. Now for the fun part. Your Intex portable hot tub includes LED lights, two headrests, and thermal ground cloth. The packaging is designed to give you all you need. 
This portable hot tub is a relaxing and fun experience, perfect to enjoy unique moments with the people you love. 
Pros
It maintains the temperature
Easy to install
Great bubble flow
Cons
The electric plug is bulky
The filter is tiny
It might lose air
Ratings: the Intex hot tub scores 4.3 stars. 
Check the Latest Price on Amazon
Conclusion
Inflatable hot tubs aren't cheap, that's one common characteristic. Are they worth it? To find the answer, think about when and how you'd use yours. If you plan on using it often, then the investment is worth it. If you are someone who enjoys bubble massages and hot soaks, then it's worth it. 
According to reviews, all these inflatable hot tubs are durable. They all have their flaws and qualities, so the decision depends on your needs more than on your budget. Inflatable hot tubs are a nice way to unwind, to let go. While sipping your favorite drink. 
Interested in Saunas and Hot Tubs?