How to Make Natural Lipstick With Beetroot. Beetroot carries a lot of vitamin C, it's anti-aging, skin brightening, antioxidant, and gets rid of flaky lips.
Lip balms are essential all year round, for the seasons' changes and to protect a sensitive part of your body.
Lip balms are useful to both prevent and cure chapped and dry lips. They apply a glossy effect, which looks glamorous. Or you can opt for a matte option, less conspicuous and still effective. 
Its use for chapped lips was first recommended in the book The American Frugal Housewife by Lydia Maria Child, published way before 1880.
First designed in the 1880s, lip balm actually started as earwax, which Child suggested would fix dry lips. Over the centuries, lip balm has changed, both in its ingredients and in its use. 
How to Use a Lip Balm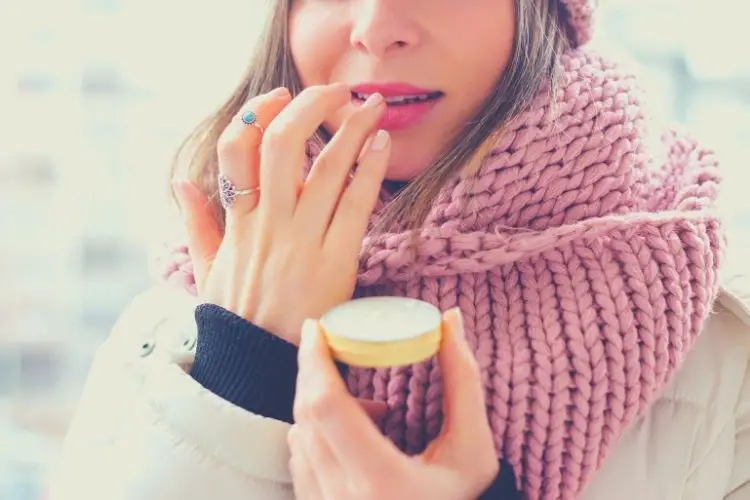 Disclosure: Some of our articles contain affiliate links (as an Amazon affiliate I earn from qualifying purchases).
Research has shown that some lips balms can be addictive, due to their ingredients and dermatologists have shown that applying them too often can do more harm than good? So, how to properly use a lip balm?
Apply it at specific times: when you wake up, after eating or after having drinks, and before going to sleep -because some people sleep with their mouth open and that dries the skin. 
Make sure your lip balm includes sun protection, to make sure your skin doesn't irritate. 
Exfoliate first. You can apply a sugar scrub to exfoliate dead skin cells and that will make your lips smoother and more hydrated. 
Applying this product frequently has two harmful consequences: your lips won't naturally adjust to the changes in environment and due to the flavors and the consistency, you might find yourself liking your lips more often, an action that causes dryness. 
Finally, dermatologists don't recommend these ingredients: methol, cinnamon, and camphor. What's the right ingredient? Beetroot. 
The Benefits of Beetroot Lip Balm
Beetroot carries a lot of vitamin C, it is full of vitamins, minerals, fiber, and potassium. The red dye of the beetroot is called Betanin and, while it looks like blood, it is not harmful. The advantages of this vegetable include: 
Anti-aging
Skin brightening
Antioxidant
Anti-inflammatory 
It gets rid of flaky lips
This vegetable is more and more used in the skincare and beauty industry because it gives skin an enviable glow, it helps curing acne, and it moisturizes the skin. The benefits of beetroot for lips include more than the red rosy color. While beetroot lip balm is hard to find in stores, it's easy to make at home. The recipe of this vegan lip balm is easy, a true diy. 
The Homemade Beetroot Lip Balm Recipe
This recipe provides you with a vegan product, eco-friendly and animal-friendly. All the ingredients are easy to find and they are not chemicals that harm the skin. Since it's a diy recipe, you know what goes into your lip balm, without hurtful petrolatum and mint. 
The Ingredients of the beetroot lip balm diy
One fresh beetroot
Two tablespoon of coconut oil
One tablespoon of shea butter or ghee
One tablespoon of castor oil
Water
Before starting, the choice between shea butter and ghee depends on you. What's the difference? 
Shea butter is an extract of the nuts of the shea tree and it doesn't contain neither irritants nor products that can cause allergies. This butter is moisturizing and it doesn't cause oily skin and it is all the anti: anti inflammatory, anti oxidant, and antibacterial. Finally, shea helps promote cell regeneration. 
On the other hand, ghee is a butter, but it is also an edible one. It's clarified butter, simmered and strained to remove all water, and it has anti-inflammatory, digestive, and therapeutic properties. Ghee doesn't have any lactose and it contains Omega-3s and butyric acid. Finally, it's a hydrating product, perfect for dry skin.
They are both natural products, so your choice depends on what your lips need the most: hydration or cell regeneration?
Finally, coconut oil isn't essential for this recipe, but it has many positive effects. This oil reduces inflammation and it helps prevent infections. This ingredient moisturizes and hydrates your skin and it may help with wound healing -such as the small cuts that cold weather can cause. 
You will need
Once you have all the ingredients ready, make sure you have all the equipment too. For this homemade beetroot lip balm recipe you need: 
Containers with lids
Stirring sticks
Knives
Glass bowl
Juicer or grater
Let's get cooking 
Ready to start? Roll your sleeves, put on your favorite music, and follow these easy steps to get your vegan lip balm diy. 
Wash and peel the beetroot, always making sure you are holding the knife safely
Cut the beetroot in small pieces and this step will allow you to extract the juice. There are three ways to extract juice from the vegetable: 
Use a juicer
Use a grater 
Bake the beetroot in the oven for up to 200F and for 40 minutes. Once the pieces of the vegetable are dried and cooled, either use a grinder or mortar to pestle
Once you have the juice or powder, grab a bowl and mix the butter and the beetroot product. 
Put the mix above a vessel filled with hot, boiling water and wait for it to become liquid. 
Once you have the liquid, pour it into a container and cover it. 
Keep in the freezer for up to 30 minutes or until it's hard.
Once it's hard, it's ready to use. 
Through this easy and quick process, you have your homemade beetroot lip balm. You can add anything you prefer to your creation such as glitter, color, or scents.
Just remember not to add anything minty to your vegan lip balm, because it would irritate your skin. 
The Results
This diy beetroot lip balm is vegan, eco-friendly, and efficient. Thanks to the benefit of the beetroot, you will have a product that prevents inflammation, gives glow to the skin, and it removes blackness.
Lips might lose color because of stress or because of seasons changes and the properties of the beetroot prevent the damages. 
Thanks to the benefits of the beetroot, the natural butters, and the coconut oil, this homemade lip balm is a recipe for healthy and shiny lips. 
Check our Articles about DIY and Lip Balms