Cellulite is one of the imperfections of the skin that every woman tries to fight, to prevent and reduce. Creams, muds, and scrubs, the most efficient Cellulite Natural Remedies
It is necessary to act on several fronts: correct nutrition , good hydration through the intake of the right amount of fluids, regular physical activity and the implementation of natural remedies in your skincare routine.
In this article we will talk about natural remedies, which will help reduce and prevent cellulite in different areas of our body.
Disclosure: Some of our articles contain affiliate links (as an Amazon affiliate I earn from qualifying purchases).
Natural remedies against cellulite are good allies for every woman and if combined with a healthy diet plan, water, draining herbal teas and constant physical activity, allow you to maximize the results and obtain many benefits for your body.
By natural remedies we mean creams, muds, and scrubs that can be applied on the affected areas by performing lymphatic drainage massages which help reduce swelling, promote blood circulation and reduce fat cells.
The main ingredients that have proven efficacy are different types of seaweed, caffeine , sage and centrella, sea salt , clay and different types of oils.
In the next paragraphs we will mainly explore DIY preparations , which can be made at home with a few simple ingredients, and other natural compounds that are instead sold ready-made on the market in the form of creams or muds.
3 DIY Natural Anti-Cellulite Remedies
1. DIY Oil and coffee anti-cellulite
One of the simplest recipes that you can prepare at home, with ingredients that you will surely have available, is based on caffeine .
Caffeine and all the antioxidant components present in coffee have a stimulating effect: promotes microcirculation, reducing therefore water retention, which is the main cause of cellulite.
So take a container and pour a few teaspoons of ground coffee. Add a couple of teaspoons of oil to the coffee, you can use olive oil or sunflower oil. Mix to make the mixture homogeneous and apply directly on all the affected areas, with a gentle and in-depth massage.
Leave on for 15-20 minutes and then rinse with plenty of warm water, dry with a soft towel and apply a moisturizer if you want. This treatment should be performed 2 or 3 times a week for excellent results.
Check also:
2. Clay, Oil and Lemon Based Mud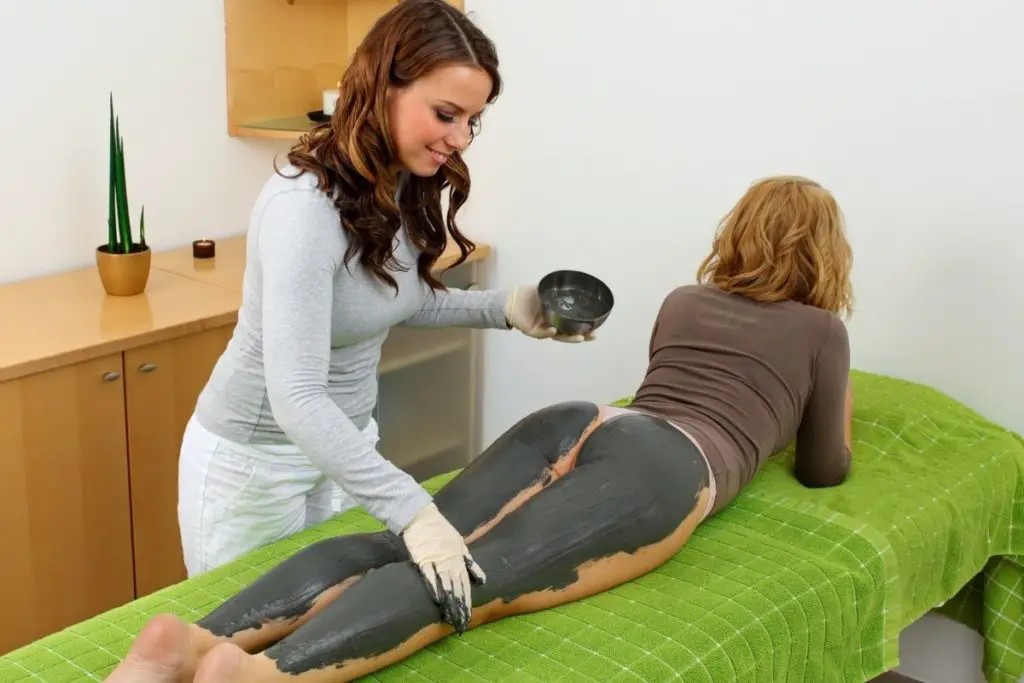 An equally effective mud , which you can prepare in a few simple steps, requires the following ingredients: clay, oil and a lemon .
Squeeze a lemon and pour the juice into a container, then add a few tablespoons of clay (4-5) and a tablespoon of oil (olive oil or sunflower).
You can also add the juice of half grapefruit to the lemon juice, which contains plenty of vitamin C, perfect for fighting cellulite. For a scrub effect, you can also add lemon and/or grapefruit zest, which favors the removal of dead cells and stimulates circulation.
Once mixed, generously apply the mixture to the affected areas, always massaging the skin gently but deeply. Cover the areas with cling film, and leave on for 15-20 minutes.
Rinse with lukewarm water and be careful to properly remove all residues.
3. Natural Anti-Cellulite Scrub with Salt and Coffee
To create a natural scrub you can use a pack of coffee, and add 3 or 4 teaspoons of salt .
By applying the mixture to the affected areas and massaging with circular movements, not only will the caffeine will promote microcirculation, but the salt will help exfoliate the skin, and eliminating dead cells.
Another scrub, also based on salt, as it is an ingredient with strong purifying characteristics, has kiwi as the protagonist.
Kiwi is a fruit with a good amount of water, therefore perfect as a food, but it also contains collagen, which is needed to promote cell regeneration.
The recipe for the scrub includes 4 kiwis, which are blended to create a puree and a tablespoon of salt. It is possible to add a tablespoon of oil to make the scrub more delicate and moisturizing for the skin.
The scrub must be applied to the affected areas, massaged with circular movements and finally rinsed after 15-20 minutes of application.
Natural Anti-Cellulite Remedies Available on the Market
The do-it-yourself preparation of scrubs, muds and wraps ensures you a product made with natural and simple ingredients, moreover the recipes we have proposed in the article are very simple to make.
But sometimes it can happen that you don't have time to make the mixture, or when you travel you prefer to have something more practical and ready. But don't worry, you won't have to give up your natural remedies.
In fact, many products are sold on the market, of different brands and compositions, which are specially made to fight the imperfections of cellulite.
For example, there are numerous muds based on different types of seaweed marine. Below we will propose some products that are made with natural ingredients, as if they were DIY products.
GUAM Anti-cellulite Body Wrap
Guam offers a line of products, mud and cream, created with alma guam, an ingredient that with its properties is capable of giving elasticity and softness to the skin, enriched with menthol, which creates a cold, refreshing sensation on the skin.
This product must be applied on the affected areas, which must be wrapped with a transparent film, leaving it on for 30-40 minutes.
Collistar Fangho Body
Another company that produces mud and related creams to treat cellulite is Collistar, with products based on coccoloba uvifera, an ingredient that is even more powerful than caffeine, as one of the main characteristics is the ability to promote lipolysis, a process metabolic breakdown of fat.
Brooklyn Botany Coffee Body
Also worth trying are the products of Brooklyn Botany Coffee Body, in particular this one based of dead sea salts, coffee and different oils, which have draining properties and stimulates the circulation.
Bath Salts
Finally, in all supermarkets and pharmacies you can find bath salts. Prefer sea salts, which can be put directly into the tub full of hot water.
By immersing yourself, in addition to relaxing and letting yourself be pampered by the hot water and the fragrance released, the salts will help drain your skin and for an even more surprising result, pass a small amount directly on the affected areas to promote microcirculation.

Take care of your body with natural ingredients and remedies and say goodbye to cellulite.
Interested in Home Remedies? Check Also