How to choose a good quality product in order to get the best out of your henna experience. Our selection of the Best Henna Powder for hair easily available.
Henna is the most effective natural alternative to chemical hair dyes. It has been used for centuries not only for its coloring effect but also for the nourishing benefits it boasts on hair and skin.
Here are my tips on how to choose a good quality product in order to get the best out of your henna experience.
Freshly grounded henna (lawsonia inermis leaf powder) looks bright green, while darker color usually indicates that the batch is older or that has been exposed to light, and therefore retains less staining power.
Finely sifted henna powder with minimal impurities is more likely to form a smooth paste, that is easier to apply and to rinse out, and that adheres better to hair giving a more satisfying dye result.
Rajasthani henna (also called mehndi in India), is known to be the best quality henna out there, because it has the highest concentration of lawsone, that is the molecule responsible for henna dyeing properties.
Keep in mind that some varieties, like henna from Morocco, give a warmer orange and terra-cotta nuance, while other varieties, especially Yemeni and Pakistani henna, have a cooler burgundy shade.
Check out my list of the best henna brands! I've selected only 100% natural products, containing just henna powder or pure herbal blends.
Best Rajasthani Henna Powder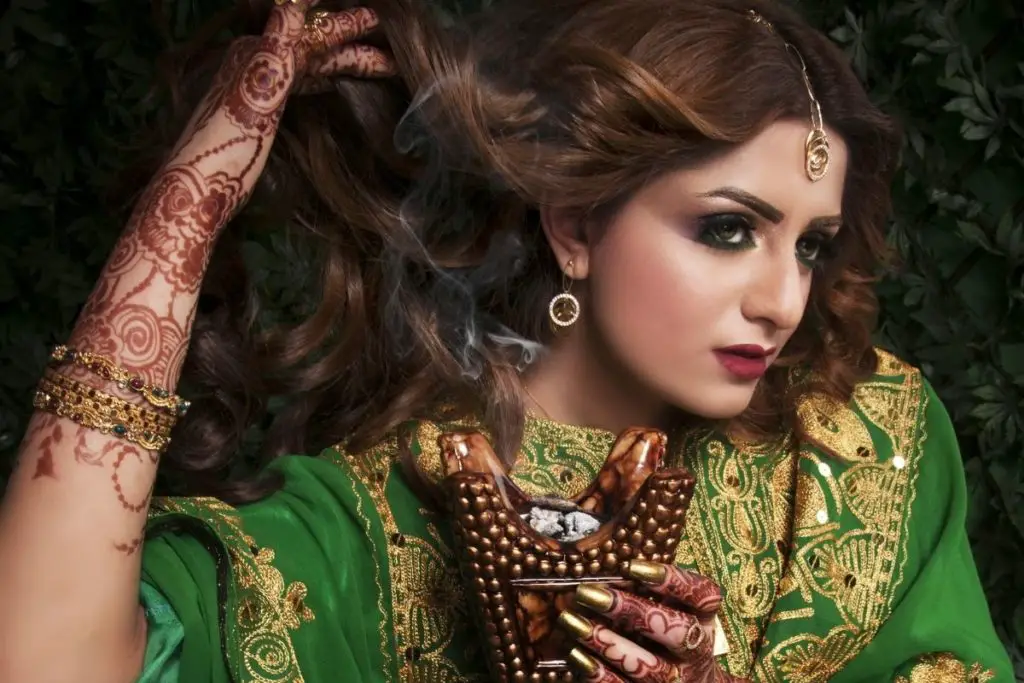 Disclosure: Some of our articles contain affiliate links (as an Amazon affiliate I earn from qualifying purchases).
Ancient Sunrise Rajasthani Twilight – Henna Powder for Hair
Ancient Sunrise Rajasthani Twilight henna is probably one of the finest henna powders widely available in the market.
It gives hair a deep, natural auburn nuance and guarantees perfect coverage of even resistant gray. This ethically sourced henna has a high lawsone content and is tested in certified labs to ensure there's no PPD, contaminants, or pesticide residue.
The brand is a synonym of quality and has great customer service. Check out their good-value kits that contain multiple packs of selected herbs to be mixed at home for obtaining different shades.
Buy Ancient Sunrise Twilight Henna on Amazon
MB Herbals Henna Powder for Hair
MB Herbals sources its henna from the Pali District of Marwar Region of Rajasthan. This area, especially the city of Sojat, is said to produce the best henna in the world, with the highest content of lawsone molecule.
The triple-sifted powder has a very fine texture that makes it easy to apply and rinse out. It gives hair a rich copper color. The brand sells also 100% pure indigo and other herbs for hair care.
Buy MB Herbals 100% Natural & Pure Henna Powder on Amazon
Mi Nature Henna Powder for Hair
Mi Nature henna is sustainably sourced and fairly traded from selected cultivators in Rajasthan. A short soak of the henna in hot water will stir the final shade to a brassy tone.
For best color results (particularly if you like darker nuances), it's recommended a long soak of the powder with room temperature water and a dash of lemon juice.
If you want to experiment with your own natural dyeing mix, there are several 100% pure herbs for hair and skincare sold by Mi Nature.
Buy Mi nature Henna Powder on Amazon
Best Non-Indian Henna
Yemeni henna powder for hair
Yemeni henna is my personal favorite. It boasts one of the coolest tones of red available, highlighting your strands of cherry, wine, and burgundy nuances.
Rihla markets good quality Yemeni traditional products at an affordable price. Rihla henna is fresh and bright green, although the texture is not the finest.
To make it easier to apply and quicker to rinse out, you can first sift the powder with a fine-mesh sieve.
Buy Premium Yemeni Natural Henna Rihla's Exotics on Amazon
Jamila Henna Powder for Hair
I've used Jamila henna for many years since it was the cheapest and most ready-accessible henna brand I could find before Internet shopping made our life easier.
I love the dark rouge shade of Pakistani henna, and Jamila always succeeded in covering my premature grays. That said, the product itself is not consistent, and its look changes a lot from batch to batch.
It's still a great value, just check out for the production and expiration dates impressed on the bottom of the carton box or in the back of the bag.
Buy Jamila 100% Pure & Natural Henna Powder on Amazon
Best Henna-based Mixed Herbal Dyes
Godrej Nupur Henna
Godrej Nupur henna is a very popular brand of mehndi in India. In this blend, henna is mixed with other nine herbs that are known in Ayurvedic medicine for helping hair health.
Nupur Rajasthani sourced henna boasts an unmatched burgundy shade, while amla, aloe, neem, and the other all-herbal ingredients insure a wholesome conditioning effect to your strands.
Buy Godrej Nupur Henna Mehndi for Hair Color with Goodness of 9 Herbs on Amazon
Henna Guys
The Henna Guys is one of the few brands that offer a wide range of herbal dyes with no chemical shortcuts and no contaminant agents.
You can choose among twelve different blends of herbs that are accurately selected to give specific shades. Instructions are included for first-time users.
Buy Henna Guys Henna Hair & Beard Dye on Amazon
Discovery Naturals – Henna Powder for Hair
Discovery Naturals is a recent rebrand of previous Henna King and Henna Maiden labels.
What's on offer is an impressive range of thirteen different blends of 100% pure dyeing herbs that are already mixed to achieve the perfect shade you are looking for.
Even if Discovery Naturals promises to color your hair in only 30 minutes, I would recommend this brand to people who have already some experience with henna-based dyes in order to avoid disappointments.
Buy Discovery Naturals' Hair Color for All Natural Hair Dye on Amazon
Best Organic Henna Powder for Hair
Just Jaivik Organic Henna Powder for Hair
If you want to go safe, Just Jaivik henna powder is certified by OneCert Asia for USDA Organic Standard. It has a good quality texture and gives a rich auburn shade to hair.
Buy Just Jaivik 100% Organic USDA Certified Henna Powder on Amazon
H&C Organic Henna Powder for Hair
H&C produces this finely sifted powder from organically cultivated henna with an excellent coloring power. H&C Herbal Ingredients Expert specializes in organic herbs for a mindful, healthier beauty regimen.
Buy H&C 100% Natural and Pure Henna Powder on Amazon
If you'd like to learn how to make henna paste for hair have a look at our article:
More about Haircare?