Is avocado an ethical product? Does it really nourish the skin? Here you will find some answers and 5 quick recipes for a face mask with avocado [+ 1 special]
In recent years, avocado has become increasingly popular, its use has multiplied in the world of cooking, especially with the growing fame of keto diet, of which avocado is the basic element.
The dizzying increase in consumption and therefore in demand has created real wars in various producing countries, such as Mexico and Chile.
Real deaths and lands that have become arid to support the water consumption required by this cultivation.
To learn more about this topic, you can take a look at the episode "the Avocado War " from the documentary series "Rotten" on Netflix.
This does not mean that you cannot consume avocados but that, as with everything we buy, we must be aware of the origin and the environmental and human costs of our choices.
On the market there are many fairtrade products coming from the partnership with local producers, for example, EqualExchange works with the farmers of Michoacán, in Mexico, the avocado capital of the world.
That said, let's talk about the benefits for the skin of an avocado face mask, super easy to make at home in just a few minutes.
Avocado, Benefits for the Skin
Disclosure: Some of our articles contain affiliate links (as an Amazon affiliate I earn from qualifying purchases).
Avocado, technically a fruit but used mostly as a vegetable, contains iron, calcium, potassium, copper, magnesium, as well as vitamins A, E, B, and K and unsaturated fats.
Its oily composition makes it ideal for those with dry skin, it is a powerful natural moisturizer.
It makes the skin more elastic and has anti-aging effects. Avocado is also used for hair care, such as restructuring mask for dry and damaged hair.
Our Quick and Easy Avocado Mask Recipes
In addition to our fair trade avocado, the other ingredients needed for a DIY face mask are readily available and probably already present in your home.
Keep in mind that the avocado must be ripe enough to be crushed and have a homogeneous consistency.
And don't throw away the core, you'll need it to try the latest of our recipes!
1. Avocado and Honey Face Mask
Ingredients:
1 medium-sized avocado
1 teaspoon of honey
Procedure
Peel the Avocado and crush the pulp until you get a creamy mixture. Add honey and continue mixing. Once ready, spread on the face with rotating movements from the bottom up. Leave on for about 20-25 minutes and gently remove by rinsing with warm water. Dab the skin with a soft cloth. Repeat a couple of times a week to see the first results.
2. Avocado, Banana and Egg Face Mask
Best for very dry skin
Ingredients:
1 small avocado (or 1/2 avocado)
1/2 ripe banana
1 egg yolk
Procedure
Pound the avocado and banana until the mixture is smooth. Add the egg yolk and continue mixing. The final result must be not too liquid. If it is, fix it by adding a little more banana or avocado. Once you have finished mixing, apply on the face for 10-15 minutes, rinse and dry the face with a very soft cloth so as not to irritate the skin.
3. Avocado and Olive Oil Face Mask
The best for moisturizing and nourishing the skin
Ingredients:
1 ripe avocado
1 teaspoon of olive oil
Procedure
This face mask is super simple, ready in a couple of minutes. Just crush the avocado, add a teaspoon of extra virgin olive oil, and the mask is ready to be used. Leave it on for 25-30 minutes and rinse. If your avocado is small and the pulp isn't a lot, 1/2 teaspoon of olive oil will be more than enough. This avocado face mask is ideal before going to sleep.
4. Avocado and Yougurt Face Mask
The best for hydration and freshness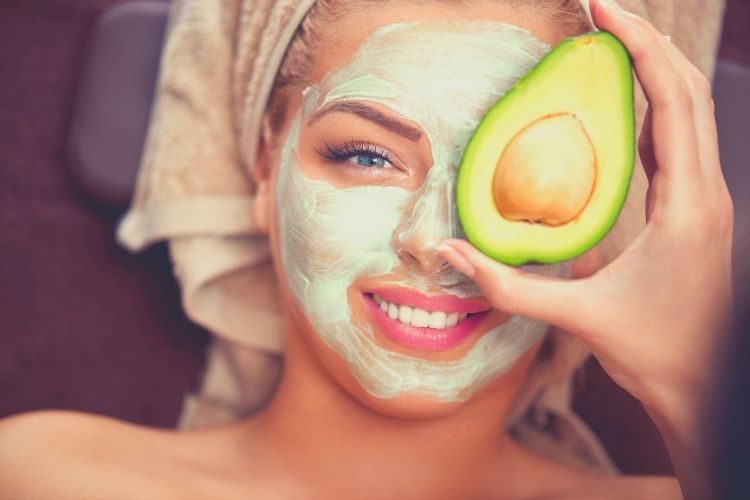 Ingredients:
1 medium-sized ripe avocado
1 tablespoon of plain yogurt
Procedure
Crush the avocado and mix together with the plain yogurt. Both have a strong moisturizing and anti-inflammatory power therefore ideal for dry skin and those who suffer from the cold. Spread well on the face and also on the neck if you wish. Let about twenty minutes pass and remove the mixture with warm water and a soft cloth to dry the skin without irritating it. Add a few drops of orange juice to give a more pleasant aromatherapy component to the mask.
5. Avocado and Lemon Face Mask
The best for a whitening and luminous effect
Ingredients
1 medium-sized ripe avocado
a few drops of lemon juice
Procedure
The citric acid contained in lemon is a good ally to lighten dark spots and freckles on the face. To prepare this mask, all you have to do is crush the avocado, add a few drops of lemon and leave for 20-25 minutes. Gently wash your face and pat dry with a soft cloth. Repeat this a couple of times a week.
6. Avocado Seed Face Mask
The best exfoliating scrub and for acne sufferers
The power of avocado is not only in the pulp but also in the seed, nothing is thrown away! Here a recipe for a face mask with avocado seed.
Ingredients
Avocado seed
1 tablespoon of clay powder
water q.s.
Grate the avocado seed. If it is too hard, put it in the oven at low temperature or boil it for half an hour. Mix with the clay powder and add just enough warm water to make the mixture of the right consistency, not too hard and not too liquid. Apply on the face for about fifteen minutes. This mask is useful as a face scrub, for those who suffer from acne or have acne scars.
Other Ideas for DIY Face Masks?
Homemade Coffee Face Mask
How to prepare a fresh and moisturizing Aloe Vera Face Mask
Preparing for a Spa Night?
Bath Bombs Simple Recipe without Citric Acid
Easy and Realaxing Foot Bath Recipes
The Best Home Foot Spas of 2022